Ofelia Faz-Garza
Ofelia "MexMama" Faz-Garza is a mama, poet, and cultural worker from Oak Cliff (Dallas) who's inspired by the subtleties of life and the rituals that root us.  
She's an adjunct instructor at a local college, a freelance columnist, and has work that has been included in several anthologies, including Women in Nature: An Anthology, Outrage: a Protest Anthology for Injustice in a Post 9/11 World, BASTA! 100+ Latinas Speak Out Against Violence Against Women, and Voces Anthology.  Ofelia is the founder of Cascabel Group, which started The Meet Shop, the Semillitas Book Club for Girls, El Tallercito Writers Collective, and the c/s Initiative. 
Ofelia is always looking for ways to use the literary and cultural arts in interdisciplinary ways to build community and is open to collaborating with and supporting those ready to change the world.
Social Media: Twitter, Facebook
Assisting creatives: The GG's (Melo, Lil, and Lomi)
Site Location: Arts Mission
Opalina Salas
Ofrenda Theme: Family, Friends & Literature
Opalina Salas is a poet, a former bookstore owner, and creator and host of the Poets on X+ reading series, held in her beloved home of Oak Cliff, TX. Her first collection of poetry, Black Sparrow Dress, reflects a lifetime of engagement and evolution as a poet and a person.
She was an editor for the femme lit zine, Let It Bleed and is a Contributing Poet on Mad Swirl.com. Her poem, "," was featured in CITY OF __________: DISPATCHES FROM 16 DALLAS POETS. She is also a host and co-conspirator for ATTACK OF THE POETS, an annual multi-day festival, held in Oak Cliff, TX, hosting poets from around the US, bridging the gaps between various literary communities far and wide.
She got her start as a spoken word performer at the legendary Club Clearview Dallas Poetry Slam. She has performed at the first annual New Orleans Poetry Fest of 2016 and was featured at the Texas Beat Poetry Festival 2012, Forest Fest in Lamesa, TX in 2011. In and around Dallas, TX, she has performed for OPP: Other People's Poetry, has featured at Pandora's Box, at Arte y Pan Dulce, a PoC Art Show, and is a regular as Mad Swirl's Open Mic on first Wednesdays. She is the Vice President of the WordSpace board and a member of the poetry collective Tejana Cosmica.
She has been writing and performing in and around the DFW area for 20 years with her comrade, partner and fellow poet, Carlos Salas.
Social Media:
https://madswirl.com/author/osalas/
http://vogueandverbose.blogspot.com
Assisting creatives: Carlos Salas
Site Location: Lucky Dog Books
Priscilla Rice
Ofrenda Theme: Selena & Richie Valens
Priscilla Rice is a poet, storyteller, and actress residing in the Southest Dallas community of Pleasant Grove. She is a collaborator in two spoken word events: Verse & Rhythm (at the Oak Cliff Cultural Center) and Pleasant Groove (at the PG Branch Library).  As an actress, she is currently in Artstillery's production of "Generations of Adam," which runs until November 1.
Site Location: El Padrino Pleasant Grove
Angela Faz
A native of Dallas, TX, Angela Faz is a socially engaged artist focusing on creating community through printmaking. Their studio practice of focus involves relief printmaking, monotypes, and silkscreen. As a printmaker for over twenty years, in 2019, Faz founded Radical Love Art Collective to prioritize activists, migrant, women, queer, trans artists, and artists of color with a skill-share art model of creative response tools needed to do what they do best. Faz believes that empowering activists and artists committed to culture work in the Dallas community will lead to long-term cultural change.
Their work has been featured by KERA, D Magazine, The Texas Standard, and others. They have exhibited at Turner House and Plush Art in Dallas, and venues beyond Dallas include the Monotype Guild Exhibition at the Attleboro Arts Museum, Hooker-Dunham Gallery in Brattleboro Vermont and Tracey Gallery in Portland, Oregon, among others. And in 2018, their work was displayed as part of a public art display, "The Doors of Make Room" on the streets of Washington, D.C. in 11 different public and private spaces.
Faz holds a B.A in Visual Communications from Collins College in Tempe, Arizona and uses their years in the trenches of corporate marketing to advance community groups engaged in liberation work in Dallas. Faz has been behind the scenes since 2005 in various causes
and recently in community with Mother's Against Police Brutality.
 Co-creative : CocoAndre Chocolatiers 
Site Location: CocoAndre Chocolatiers
Anita Sanchez
Ofrenda Theme: Bittersweet
Anita Sanchez is a Texas born and raised Latina who lives and works within the Oak Cliff community. Anita considers herself an 'arts-and-craftivist' and finds happiness and purpose through expression in many different forms of art. At an early age, Anita began writing poetry and would go on to host poetry nights at the public library and continues to write and participate in open mics.
Anita owns a small jewelry business that began in the early 2000's. She designs and handcrafts jewelry focusing on upcycled, repurposed, fun and kitschy statement pieces under the name Anne's Disasters and currently sells her creations at local events as well as on her social media platforms.
Anita is the creator and organizer of Hecho Con Amor, which translates to 'Made With Love'. Hecho Con Amor is an Oak Cliff based entity that curates and promotes reoccurring pop-up vendor markets and events. Hecho Con Amor offers a platform for small and local vendors and businesses to showcase their work, nourish the lines of communication with the community and also to strengthen financial stability through selling their goods while networking with other vendors. Currently these events are held at the long time Oak Cliff neighborhood staple, Maroches Bakery off W. Davis St. Hecho Con Amor celebrated it's one-year birthday/anniversary in August.
Anita is an avid reader who loves animals, her army of nieces and nephews, glitter, and making stuff. She currently lives with her dog, Roxy, who can be spotted with her at most events, in her apartment that is located in a creepy old house built in 1912 in the historic block of Kings Hwy in Oak Cliff. 
Site Location: Maroches Bakery
Maribel Rubio
Ofrenda Theme: Sangre Matriarca
Maribel Rubio is a Chicanx writer, artist, and social justice activist. Born in El Paso Texas, she is a first-generation Mexican-American. She received a Bachelor's degree in International Business from the University of Texas at El Paso and an MBA from Columbia College in Missouri. Maribel currently lives in Dallas and in her free time, she loves to travel and explore nature through hiking and camping. In addition to having a short story and a poem published in the book, Stuff I Never Told Anyone: Finding Power in the Shadow of Shame, Maribel is currently working on her second novel.
Tara Martinez
Ofrenda Theme:  The Golden Age of Mexican Cinema
Tara is a jewelry and creative designer who currently resides in East Dallas. She graduated from The University of Texas at Arlington with a Bachelor's degree in Cultural Anthropology and a minor in Spanish Literature. Aside from working a full time office management position, lately she has found herself working along side other local artists to volunteer their time and talents giving back to the Senior Citizens of Dallas.  She has recently collaborated with Candelaria & Co. Art Studio by teaching Jewelry design classes to the senior citizens of Oak Cliff.  
Her journey with Jewelry design began almost 20 years ago. It was a hobby that grew out of the love of beaded jewelry and natural stones as well as vibrant colors and anything eccentric. She designs and creates what is resonating with me at the current moment and that is always changing. Whether it is using beads, fabrics, metals or textiles her work is always a surprise even to her. Her love for culture - especially that of her own Mexican heritage, nature & spirituality is expressed in her creations and it is what inspires her. She uses materials that our Mother Earth has gifted us with. Materials that have come from our planet's naturally occurring disasters. Just like a mixing of the Earth's elements -  she never knows what she will end up with - but she says it is always an exciting adventure to be challenged and create something beautiful. 
Her designs can be found on social media platforms under the name @NaturalDisastersDallas.  
Her motto is: To Create is to Live - To live is to Create. 
Co-creative: Iris Candelaria
Site Location: Candelaria & Co
Iris Candelaria
Ofrenda Theme: The Golden Age of Mexican Cinema
A native of Dallas, Iris Candelaria has been honing her talents full time for over a decade. Drawing from her vivid experiences the painter/designer masterfully uses color to express emotions on a very unique level and shares her love for strong women through her colorful artwork.
As part of a family-owned business she sketches, fabricates, and embellishes elaborate and festive cakes to mark any type of special occasion.
As a painter she uses her vivid imagination to illustrate very candid and intimate moments gathering inspiration from her two daughters and her colorful latin culture.
She is also the former executive director for ArtLoveMagic's non profit organization which brings local art to the community and helps artists break down the walls between galleries, art lovers and artists by creating events where artists showcase and teach their talents to live audiences. Has produced several dozen Free Childrens Art Workshops through Dragons Halloween Ball and the Latino Cultural Center.
Iris was also recognized by the Greater Dallas Hispanic Chamber of Commerce in 2015 for being an outstanding business and civic leader in North Texas.
She has participated in other artists markets, fund raisers, and special events with her affiliations and other organizations such as The Artistic Push, ArtLoveMagic, Just Us League, Unified Arts, Kettle Gallery, ArtCon, Big Thought, DaVerse Lounge, Latino Cultural Center, Latino Leaders Magazine, La Reunion, City of Dallas, Marinela, Dragons Halloween Ball, RAW, Latino Fashion Week and the DFW Art Awards, Univision and Telemundo, J. Waylon & Associates and the Hispanic Women's Network of Dallas.
Co-creative: Tara Martinez
Site Location: Candelaria & Co
David Reyes
Ofrenda Theme: People of Color in STEM
David Reyes, a native of Dallas, is a maker, social innovator, and entrepreneur. David started as a friendly neighborhood computer repair guy and developed new skills working in corporate environments and nonprofit organizations until founding Bright Start Project. Bright Start Project (BSP) offers bilingual STEAM programming with a focus in Art, Technology and engineering. Creating engaging learning workshops he aims to shape and serve the next generation of inventors, scientists, engineers, etc.
Co-creatives: Vicky Rodriguez and Eddy Cordova
Site Location: Bright Start @ Tyler Station
Jerome Larez
Jerome Larez is a Ph.D. student in Arts & Cultural Tradition and Human Rights & Social Justice at Southern Methodist University. Jerome is a Texas Tech alum; where he completed his undergraduate and graduate education. His research interests explore the complex interactions of art and activism, art equity, and the intersectionality of race, sexuality, gender, and the impact of cultural convergence to individuals and groups. While at Texas Tech University, Jerome founded Hope Will Never Be Silent, a Big 12 LGBTQ+ traveling art exhibit. In 2014, Jerome co-founded Arttitude to create and support platforms for LGBTQ+ people to represent their multiple and diverse identities, histories, and communities with the goal of inciting change and equality for all through the arts.
Co-creatives: Veronica Morales and Enrique Altamirana
Site Location: Arts Mission
Enrique de Altamirana
Enrique de Altamirano, with more than thirty years of experience in the fashion industry, specializing in high fashion women's dresses. He is from Mexico and stabilized in Dallas, Texas, in 2010. De Altamirano graduated from the Institute of Design and Fashion Jannette Klein in 1995.
Co-creatives: Veronica Morales and Jerome Larez
Site Location: Arts Mission 
Elevate!
Ofrenda Theme: Death of an Artist
Elevate!, located in the heart of the Oak Cliff, is an open work space with a creative and professional atmosphere. Here we strive to inspire individuals by allowing members to establish their identities as creatives and independent professionals. We provide tools and resources to encourage artistic and entrepreneurial success. Along with access to suites, work studios, conference rooms, and desks, we also offer networking opportunities, art and business talks from established professionals
Site Location: Elevate DTX
Geovanne Garcia
Ofrenda Theme:  Memories From Our Ancestors
Geovanne Garcia is a an art educator (K-5th) at L.K. Hall Elementary.
Geovanne is a Booker T. Arts Magnet and UNT alum. She earned a Bachelor of Fine Art in both a studio arts: ceramics and art education.
As a DISD graduate, she has a passion for reinvesting back into the DISD community. 
Geovanne is now starting her 8th year at Hall ES. She leads extra-curricular and co-curricular activities where she connects her passion for the community and connecting to people through the arts
Assisting creatives:  Ana Calderon and Martiza Villegas 
Site Location: L.K. Hall Elementary School
Paloma Salas
Ofrenda Theme: The Life And Spirit of Violetta Parra
Paloma Salas is a multidisciplinary artist based in her hometown Oak Cliff in Dallas, Texas. She is inspired by the healing culture of curanderismo and her art resonates with the surrealist practice of automatism. She believes the creation of art is intuitive, as if it were a recipe or performance to heal or cleanse oneself or the external world. 
Find her on Instagram: @moonkitten8 & @babymujer 
Assisting Creative: Braulio Lazon Conde.
Site Location: Trompo
Radical POC/QPOC Unschooling Co-Op of Dallas
The ninxs from Papalotl Sin Fronteras created an ofrenda for the migrants and refugees who have died while crossing the (illegitimate) border between the U.S and Mexico.  They especially wanted to honor the children who have died in custody after being kidnapped from their parents and put in cages by the US government.  They wanted our community to know that children should never be in cages, that migration is beautiful and that they will grow up and get rid of borders and police that hurt instead of protect. Papalotl Sin Fronteras is an Uncshooling Co-op for POC and QPOC families.
Site Location: Maroches Bakery
Laura Cano
I began my Real Estate career in 2004.  Being in the Real Estate Industry for 15 years, I've seen the cycles in the housing Market. Some which have been heart breaking like in 2009 which affected homeowners and families, including myself. 
Over the years I have earned Multiple Top Producer in my Market but what I value the most is the importance of using my platform for the betterment of our people & teaching the importance of home ownership and sustainability. That is my way of giving back to my community. 
I've learned to create relationships who support that vision and share the love of the culture, growth and diversity in Dallas, Oak Cliff & the Best South West area and surrounding Cities. Born in one of the smallest towns in Poza Rica- Veracruz, the love for my culture and people remains deeply rooted in my heart which is why I take great pride in all I do. 
Social Media:
FB - Real Estate With Laura Cano
Real Estate with Purpose
Erika Jacqui
Erika is a Salvi American scribbler of thought, poetry, and stories, much with the aim of preserving personal and family history. She grew up outside of Dallas, Texas on family cuentos, playing outside, eating beans and pupusas. Erika has an educator professional background. Her crafts and interests: astrology, tarot, yoga, and hooping. These have taught her about the tangential nature, literal circles and cycles of life, and often writes about these themes too. She is a categorical introvert but has deepened her self-love and joy through movement art and uses the expression of body forms for prayer and spinning magic.
Co-creators: Lucha Dallas Collective
Ofrenda Location: Maroches Bakery 
Jodi Voice Yellowfish
Theme: Honoring MMIWG2S (Missing and Murdered Indigenous Womxn Girls 2 Spirits)
Jodi Voice Yellowfish is Muscogee Creek, Oglala Lakota, and Cherokee. A product of the US governments Relocation Program Jodi was born and raised in Dallas, Texas and has lived in Oak Cliff her entire life. She attended Haskell Indian Nations University in Lawrence, Kansas where she received her Associate's degree in Social Work and studied for her bachelor's in Indigenous and American Indian Studies. Jodi is an ambassador for American Indian Heritage Day in Texas, Indian Citizens Against Racial Exploitation as well as Chair for MMIW Texas (Missing and Murdered Indigenous Womxn), and a member of the steering committee for Dallas TRHT (Truth Racial Healing Transformation). Jodi is married to her ever supportive partner Ricky Yellowfish. She is also an adoptive parent, parenting with her older sister Snowy Voice and husband Ricky, to her niece and two nephews.
Social media: Find Jodi Voice Yellowfish on FB,  & TWITTER
Assisting creatives: MMIW Texas and The Voice/Hitcher Family 
Site location: Urban Inter Tribal Center
*SPECIAL INVITE TO VIEW THE OFRENDA ON SATURDAY OCTOBER 26TH FROM 1PM TO 3PM during the Urban Inter Tribal Center FALL FEST.*
Lucy Bocanegra
Lucy is a Chicago born, Dallas raised writer. She is a published fiction writer for Low Rider Magazine, The Show Scene Magazine , a blogger, poet and car show organizer, and co-founder of North Tejas Writers Workshops. 
Writing is just one way Bocanegra expresses her artistic side. She has exhibited at the Latino Cultural Center for Dia de Los Muertos and coordinated artistic exhibits for her daughter (who has been exhibiting her work since she was 13 yrs old) at the Bath House and Ice House. 
Mentoring and encouraging writers, visual artist and bloggers is something she loves. One of the latest challenges Bocanegra has taken on is original restorations of antique cars and custom auto upholstery.  This is a trade passed down from both her parents that she feels takes artistic skills.
Co-creatives: the Portillo kids
Site Location: Oak Cliff Cultural Center
Susana Edith
Ofrenda Theme:  Various Ofrendas
Susana Edith is a mother of two, who currently resides in Dallas. She was born in Michoacán, Mexico and migrated to New York when she was younger, it was there that she began her work in the community alongside her mother advocating for the rights of farm/migrant workers. Susana Edith now finds herself dallas alongside the community under the collective, Lucha Dallas. She spends her time decolonizing herself and her children while actively creating platforms and spaces for latinx and poc community members through the means of cultural organizing. She believes the best way to be involved is to enter a community is by listening to the needs of the people and using your experiences and privileges to aid the people with their needs.
Co-creators: Lucha Dallas Collective
Ofrenda Location: Maroches Bakery 
Veronica Rizo Morales
I am a self-proclaimed "hobby artist" & native of Dallas, where I continue to live & work. Retired from the corporate world since 2000, I now spend my time on early childhood education & some of my favorite hobbies like gardening, traveling, & art (of course).
Ever since I can remember I have dabbled in paint, pencil, clay, mixed media, & even poetry, but I most enjoy story telling & theme design for self- expression.
My latest design is a garden in honor of my featured Dia de los Muertos altar subject, Daniel Cisneros. My favorite things in life are music & the ocean.
 Social Media: Veronica Morales
Co-creatives: Jerome Larez and Enrique de Altamirano
Ofrenda site: Arts Mission
Will be visible during the Verdisgris Dia de los Muertos performances on October 31, November 1 and 2.
Amber Skye Padilla
Amber Skye Padilla is a young latinx artist on the rise in Dallas, Tx best known for her ink blot paintings and handmade jewelry, although she's also a trained welder and metalsmith. There has always been immense influence from Frida Kahlo seen in her jewelry; Fridas pictures and paintings also hang throughout Amber's studio as a muse.  A Booker T Washington High School for the Performing and Visual Arts alumni, she has interned in Mexico City and Oaxaca, Mx to learn about Mexican art and work under various artisans. She is currently attending the University of Texas at Arlington for a B.A in Art History, and will continue education for a Master in Spanish Art.
Site Location: Ruins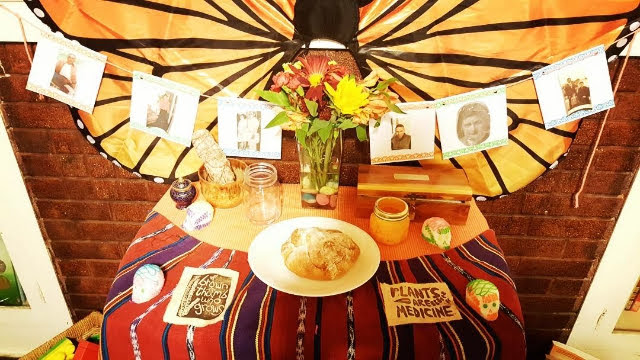 2018 Artists
Lula
Iris Candelaria
Angela Faz
Dennis Gonzalez
Alexandra Hernandez
Isabel Montemayor, PhD
Amber Skye Padilla
Priscilla Rice
Maribel Rubio